Site Home
>
About the Jewish-Catholic Theological Exchange
About the Jewish-Catholic Theological Exchange
The work of the Jewish-Catholic Theological Exchange committee (JCTE) continues a tradition of Christian-Jewish engagement that has been part of Providence College's history. While founded primarily to provide a Catholic liberal arts education to ​the sons of Irish immigrants, PC was nevertheless a place where non-Catholics were welcomed. The College's charter made it clear that "no person shall be refused admission … on account of the religious opinions he may entertain." Already in the earliest decades of the College, students from various ethnic and religious backgrounds enrolled to study with the Dominican fathers.
In 1922, the first Jewish student was admitted to PC as part of the fourth incoming freshman class. Over the next few decades, hundreds of Jews from Smith Hill and other parts of Providence, Rhode Island, and New England enrolled at PC. The 1920s and 1930s were a time characterized by virulent anti-semitism in Europe and the United States, and many prestigious colleges and universities adopted quotas and other policies intended to limit the number of Jews on their campuses. In this atmosphere, PC built a reputation as a place where Jews were welcome and where the children of working-class families could acquire a solid and affordable education. PC was becoming a place where Jews and Christians could learn with, from, and about one another.
​
​In May of 1932, Fr. Lorenzo McCarthy, O.P., president of Providence College, was instrumental in organizing the Rhode Island Seminar on Human Relationships. This two-day conference, held at PC and Brown University, was a part of a pioneer program launched by the National Conference of Christians and Jews. Its goal was to encourage understanding and tolerance among Catholics, Jews, and Protestants. The conference featured speakers from all three religious traditions, including Fr. McCarthy himself. The event was hailed by Rabbi Isaac Landman, one of the conference speakers, as the "first time in history that Protestants, Catholics, and Jews have met under communal auspices in a Catholic College, at the invitation of a bishop of the Church, for a friendly discussion of those divisive elements that destroy proper human relations." Similar conferences were held in Rhode Island and New England in the 1930s and 1940s with the participation of Fr. McCarthy and his successor Fr. John Dillon, O.P. Fr. Dillon also took to the airwaves to promote Jewish-Christian understanding on local radio programs.
In November 1963, Fr. Vincent Dore, O.P., president of the College, organized a Conference on Catholic-Jewish Understanding in conjunction with the Anti-Defamation League of B'nai B'rith. The event drew local and national Catholic a​nd Jewish leaders to Providence. The Second Vatican Council was underway in Rome and an important item on the agenda was a document that would reshape Jewish-Christian relations, after centuries of m​utual distrust, anti-Jewish teaching, and the tragedy of the Holocaust. This document, the Declaration on the Relation of the Church to Non-Christian Religions (Nostra Aetate) was promulgated in October, 1965. Just weeks after its promulgation, Fr. Dore's successor, Fr. William Haas, O.P., convoked another Catholic-Jewish Conference at the college. Similar conferences would follow in the 1970s and 1980s.
After a hiatus of activity, the Department of Theology established the Jewish-Catholic Theological Exchange committee in 2007 to explore ways to implement the teaching of Nostra Aetate​ in the curriculum and campus life. In 2009, the lecture and colloquium series Theological Exchange Between Catholics and Jews was inaugurated. Each year the series brings to campus local and nationally-recognized experts for several major events:
A lecture in the Fall semester featuring a speaker on a theme relevant to Judaism or Jewish-Christian relations; and
A "public dialogue" in the Spring semester between two nationally-recognized experts – one Jewish and one Catholic – who discuss a specific issue in Jewish-Christian relations.
In addition, PC faculty, students, and local clergy are invited to participate in a colloquium discussion with these experts as an opportunity to delve more deeply into the current issues that define Jewish-Christian relations.
Over the past century, Providence College has been enriched by the contributions of Jewish students, alumni, faculty, and staff.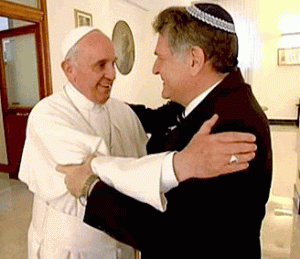 "Dialogue and friendship with the children of Israel are part of the life of Jesus' disciples." These words of Pope Francis are not new or revolutionary. They follow in the tradition of his predecessors, from St. John XXIII to Pope Benedict XVI, and proclaim anew the message of Nostra Aetate. These words can also describe the unique history of Jewish-Christian friendship that has marked the history of Providence College. ​
​​
Sons of Providence Multimedia Exhibit
For much more on the fascinating history of Jewish-Catholic relations at Providence College, please visit the Sons of Providence Multimedia Exhibit online. This exhibit, which is the result of a major research project conducted by Dr. Jennifer Illuzzi, assistant professor of history, and Dr. Arthur Urbano, associate professor of theology and chair of the Jewish Catholic Theological Exchange at Providence College, recounts the history of Jewish students at PC from 1917 to 1965.
The following videos also te​ll part of that remarkable story:
PC Experts: PC's Jewish Heritage
Lecture: "The Sons of Providence" Project
The Sons of Providence Documentary