Jewish-Catholic Theological Exchange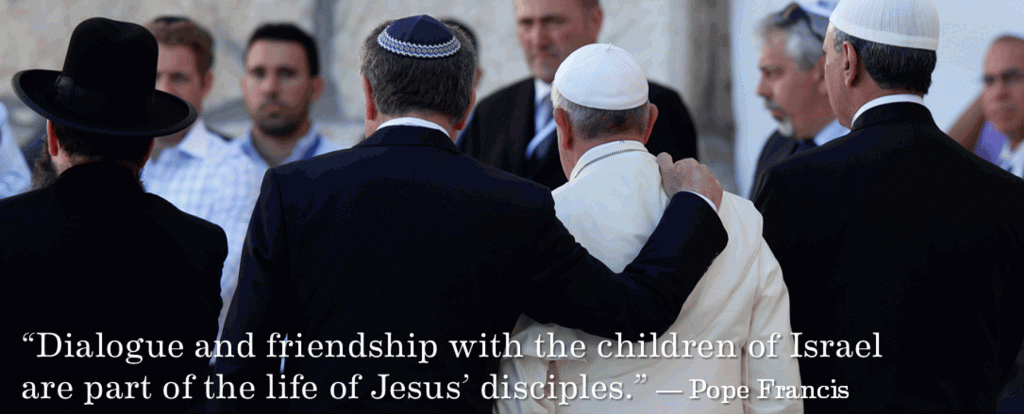 Our Mission
​Since its founding in 1917, Providence College has actively promoted Catholic and Jewish engagement. Building on this history, the Jewish-Catholic Theological Exchange (JCTE) commi​ttee w​as establ​ished by the Theology Department in 2007 and has ​continued to extend opportunities for Jews and Christians to pursue "mutual understanding and respect which is the fruit, above all, of biblical and theological studies, as​ well as of fraternal dialogues" (Nostra Aetate 4). Reflecting on the common spiritual heritage as well as the unique identities of Jews and Christians, our mission is to foster interreligious learning, understanding, and friendship. The JCTE hosts major lectur​es, colloquia, and other initiatives on the Provide​nce College campus. These events provide a welcoming forum where members of the college join the broader Rhode Island community, to engage with local relig​ious leaders and nationally recognized experts to discuss themes of mutual theological interest. In continuity with Providence College's long-standing tradition, the JCTE promotes interreligious understanding and dialogue in the spirit of the Second Vatican Council's Declaration on the Relation of the Church to Non-Christian Religions (Nostra Aetate).​​​Read More >>>​

Recent and Upcoming Events
March 23, 2022
Friendship and Emotions in the Hebrew Bible
The annual spring lecture of the Jewish-Catholic Theological Exchange (JCTE) was held virtually on Wednesday, March 23 at 6:00 pm. Professor Saul Olyan (Judaic Studies, Brown University) spoke on "Friendship and the Emotions in the Hebrew Bible" with a response by Professor Stephen A. Long of the PC Theology Department.
November 16, 2021
Faith, Justice and American Love: Reflecting on Judaism and Racial Justice
An event with Rabbi Isaiah Rothstein (Rabbinic Scholar and Public Affairs Advisor, Jewish Federations of North America). Co-sponsored by the Center at Moore Hall.
April 14, 2021
The Opening of the Pius XII Archives: What's at Stake for Jews and Catholics?
A dialogue with Rabbi David Fox Sandmel (Vice-chair of the International Jewish Committee for Interreligious Relations and Senior Advisor on Interreligious Affairs at the Anti-Defamation League) and Professor Robert Ventresca (Professor of History at King's University College at Western University and author of Soldier of Christ: The Life of Pope Pius XII)
October 29, 2020
Worship and Spirituality in the COVID Era: A Conversation Between a Catholic and a Jew
Deborah Johnson, Professor Emerita of Art History & Women's Studies at Providence College and Cantor at Temple Sinai in Cranston, RI
Margaret Felice, Assistant Director of the Liturgy Arts Group at Boston College and active in Catholic music ministry

October 24, 2019
Reflections on Oberammergau: The World's Most Famous Passion Play